Production Equipment
Sharp Tools Make Good Work
Melting and Casting
lt possesses an international advanced 20-ton regenerative aluminum meltingfurnace,35-ton homogenizing furnace, and close-packed hot-top castingmachine production line. It adopts inert gas refining and is equipped with anadvanced metal direct-reading spectrometer to ensure the accuracy and stabilityof the chemical composition of aluminum rods.
Extrusion
lt has extrusion production lines with a capacity of 600 tons to 7000 tons, the maximum diameter being 16inches.All production lines are equipped with world advanced German hydraulic system,and are alsoequipped with international sophisticated double traction and on-line quenching equipment,which canquickly complete the on-line air cooling quenching,water mist quenching and spray quenching foraluminum alloy profiles; thus,it could provide customers with diversified large section building profiles,industrial profiles and aluminum formwork profiles with superior performance and stable quality.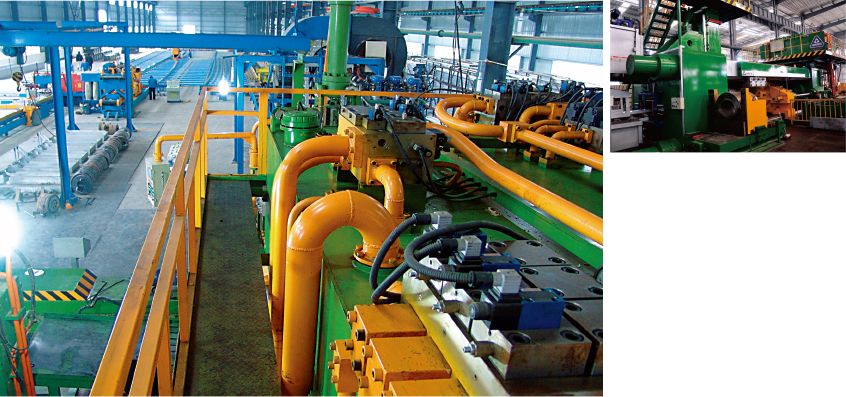 Vertical quenching

It has a 10m vertical quenching production line for variousspecifications of heat treatable and strengthened industrial profiles,which ranks top in domestic equipment, and has the ability to produceall kinds of hard aluminum alloy and special aluminum alloy.
Electrophoresis and Oxidation
lt has domestic advanced electrophoretic paint and anodizing production line,and adoptsinternational advanced single nickel salt coloring technology.The treated aluminum profile has goodsurface gloss,uniform color and excellent weather fastness. At the same time, it has mixed saltcoloring equipment and could satisfy the different needs of customers.
Powder Spraying
With domestic advanced vertical spraying production line of Italiantechnology and the horizontal spraying production line,the surfacetreatment of aluminum profiles has reached the international advancedlevel.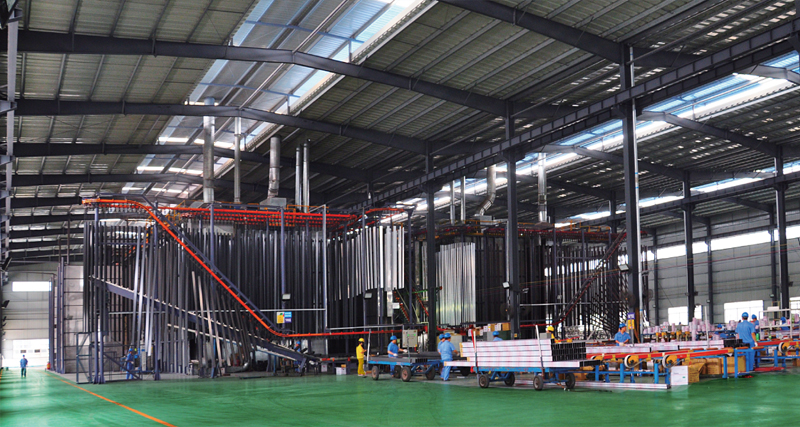 Fluorocarbon coating

lt has the latest fluorocarbon spraying production line with the processinglength up to 13 meters.
Heat Insulation Profile

It has domestic advanced heat insulation production lines of threadingtype and glue injection type,and has the processing capacity ofvarious types of heat insulation profiles to fully meet the differentneeds of customers.
Fume and Dust Processing System

The company has domestic advanced fume and dust treatment equipment to collect andprocess the fume and dust in the waste gas, so that the waste gas emission can meet theemission standard of GB9078 Emission Standard of Air Pollutants for IndustrialFurnaces.
Sewage Processing System

lt has developed sewage treatment facilitiesin China,and its wastewater dischargemeets the first class standard of GB8978Comprehensive Wastewater DischargeStandard.